2015 Oakland Raiders Offensive Line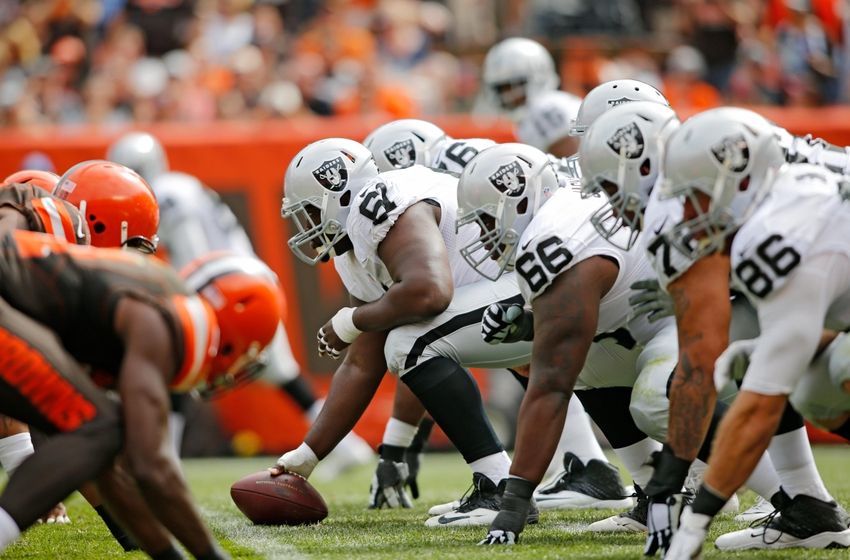 ---
The Offensive Line's main responsibilities are to protect the Quarterback and to provide running lanes for the Running Backs. They make up the foundation of any good offense.
As Coach John Madden would say, when the Offensive Line is doing their job well, you don't hear about them. And when they're not, well then it's just the opposite.
Offensive Line Coach Mike Tice did an outstanding job with the offensive line in 2015. Knowing that Coach Tice has been a part of some very effective running teams in the past, the future of the Oakland Raiders OL unit should be exciting.


During training camp, the anticipated starters were:
On August 30, 2015, Watson suffered a torn Achilles tendon during the third preseason game against the Arizona Cardinals, and was placed on injured reserve on September 1, 2015.
Menelik Watson was replaced at right tackle by Austin Howard.
Howard continued as the Raider's right tackle until December 19, 2015, when he was placed on Injured Reserve with a knee injury.
J'Marcus Webb was then moved to right tackle, while rookie Jon Feliciano, a 2015 fourth round pick, got the start at right guard vs. Green Bay.
Other Lineman That Saw Regular Action
(filled-in for Rodney Hudson for a few games when Hudson suffered an ankle injury)

(filled-in on occasion at tight end or slot to provide an extra blocker)
Other Lineman On The Team
Sacks
During the 1st 11 games, the raiders gave up 12 sacks.
Then the injury bug hit
During the last 5 games, the raiders gave up 19 sacks
Run Game
The run game was ranked 19th with 3.69 yards per carry.
Hopefully, during the 2016 draft or free agency, a few road-graders can be obtained to improve the run game.
Pro-Football Focus Ranking 2015
Overall Rank: 6th
Pass-blocking rank: 2nd
Run-blocking rank: 18th
Penalties rank: 30th
Stud: After a good rookie year, guard Gabe Jackson cemented his status as a "hit" for Reggie McKenzie with an even better second year.
Summary: Nothing sums up the transformation going on in Oakland like their offensive line. The left side is particularly strong, with Jackson and Donald Penn ever present. Also, the addition of Rodney Hudson via Free Agency, resulted in better play on the line.
Tribute to the 2015 Oakland Raiders Offensive Line by Kevin Amen